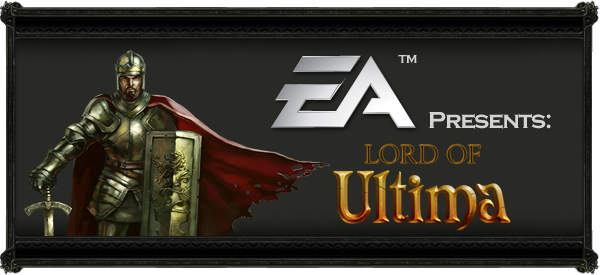 This page needs reformatting of tables, charts, etc. in one or more of its sections. Please help the Lord of Ultima Wiki by fixing it.
Fact sheet

Edit
| | |
| --- | --- |
| Product: | Lord of UltimaTM |
| Publisher: | |
| Developer: | |
| Genre: | Strategy MMO, Empire building game |
| Platform: | Browser-based |
| Business model: | Play4Free with MTX |
| Launch date: | 20th April 2010 |
Product description

Edit


Lord of Ultima is EA's first game in the free Strategy MMO genre and is completely playable in a web browser. Developed by EA's Phenomic studio, the game's creator Volker Wertich (the genius behind strategy classics such as the Settlers) takes this genre to the next level.


Lord of Ultima features deep strategic gameplay and multiple social features including an advanced trading system, alliance features, online chat, and forums.


At launch the game was available in the English and German languages.


Credits(Credits)


Story overview

Edit


Set in the legendary Ultima universe, the game takes you to the new world of Caledonia, formed from the remains of Sosaria which was shattered into countless islands.


You start your journey with a humble village which you grow over time into a mighty and prosperous capital. On your path to glory you will have to expand your power by creating additional cities, exploring new continents and forging a vast empire.


You must master the art of diplomacy and trade as well as the military activities of spying, plundering, attacking and sieging enemy cities to finally become the mighty and feared Lord of Ultima.


Game Features

Edit

<
For example, place woodcutters and a sawmill next to a forest to maximize the collected resources or build a training ground next to your barracks to increase your recruitment speed.
A quest book full of interesting missions will guide you through exploring all the strategic possibilities Lord of Ultima has for you.
Plunder dungeons and defeat mighty bosses to win their treasures.

Or become a feared conqueror, by creating mighty armies of knights and mages to crush your enemies.
Forging alliances with other players will help you in your ultimate quest.
We, the developers, make our money by selling a variety of convenience items, which e.g. enable you to accelerate building construction and army recruitment times or increase your build queue.
We have also taken great care in designing the game to ensure everyone, from beginner to strategy game expert, can make it to the top of the leader board without ever paying us a dime.


About Phenomic

Edit


Headquartered in Ingelheim am Rhein, Germany, EA Phenomic focuses on the creation of outstanding computer and video games for an international audience, specializing in strategy, empire building and role playing games for PC, Console- and online media.



Phenomic has since created highly successful games, including the franchise SpellForce, as well as the recent online Play4Free RTS title BattleForge. <


For more information on Phenomic, visit www.phenomic.de(www.phenomic.de)



The names of actual companies and products mentioned herein may be the trademarks of their respective owners.


| Back to Overview(index) |